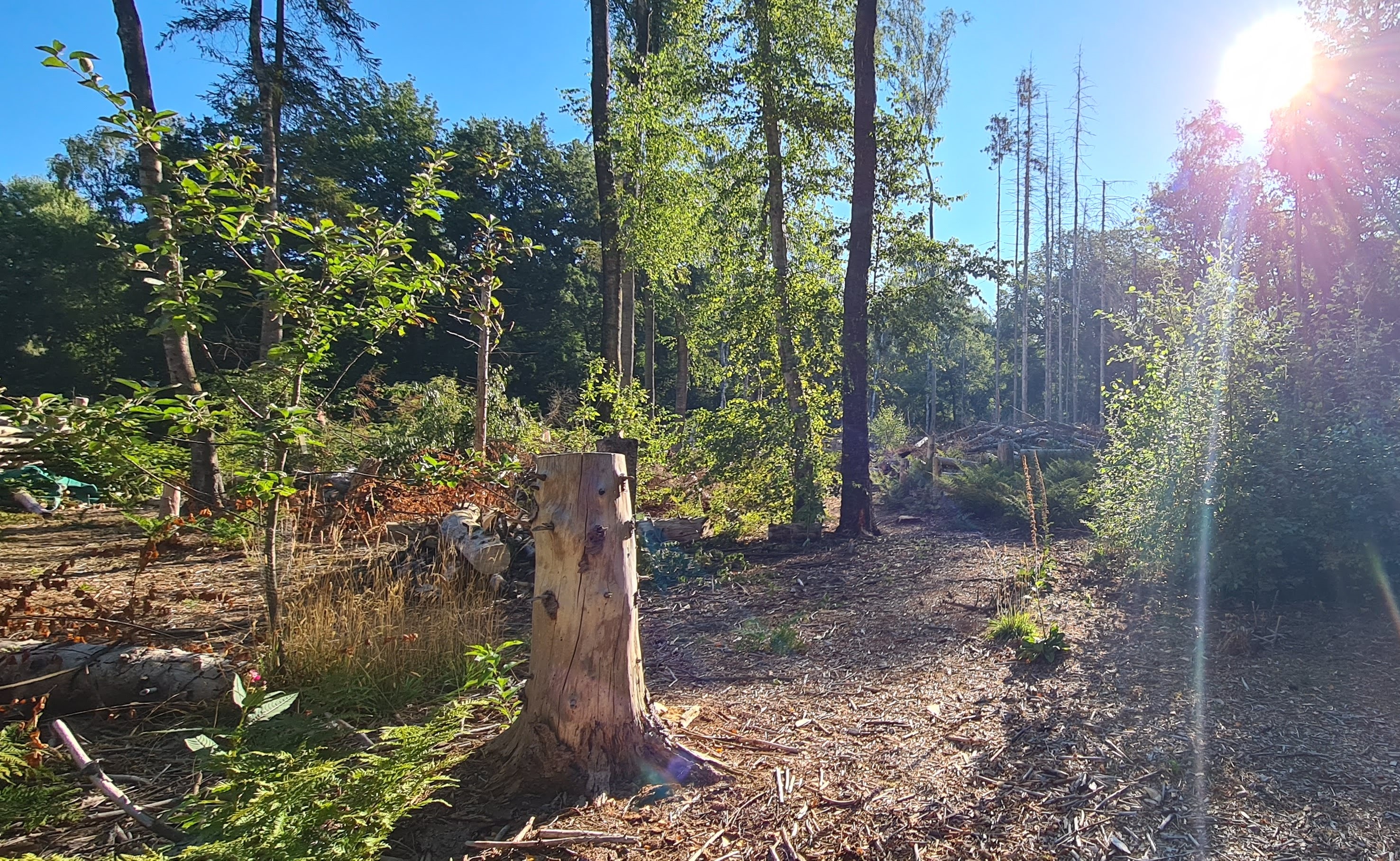 Klarenbeek Food Forest
Here is a short timeline of the food forest in Klarenbeek. (Translated by Google Translate from my Dutch notes)
2017First drought
2018Second drought
April 2019I see the dead forest in the back for the first time. I see a piece of ivy creeping towards the forest and know: dead wood gives life. More sunlight will mean more green. The view from our house will definitely change.
January 2020Planted a Christmas tree that will not survive.
February 2020Hazelnuts and mountain ash placed against the edge of the forest. At that time no idea that 50 meters away mountain ash was spreading almost invasively.
The reason was that I initially went to see: what used to grow here? And that turned out to be a difficult question. Because: when before? 100 years ago? 400 years ago? When the Romans were here? Before the last ice age?
The correct answer? That doesn't exist, but in the end I started from the principle: everything that has ever come here on its own is indigenous. **** That means that it was not originally brought here by man, like almost all our food.
March 2020Forest purchased. First trees in front felled.
March 2020The orange raspberries from Huub are planted.
April 2020Apple trees planted. More trees felled, first clearing visible.
May 2020Cleared trees.
June 2020Cleared trees.
July 2020Cleared trees
August 2020Got a wood chipper to get rid of some of the side branches from all the downed trees.
September 2020Trees downed
October 2020
November 2020
December 2020
Planted a first large batch of native species. Including walnut, chestnut, European oak, hawthorn, and protected species.
February 2022
March 2022
April 2022
Vacation USA
May 2022
Vacation USA
June 2022
Many plants freed from competition. The ones that didn't survive aside. Everything looks a bit dry, but some plants that seemed dead now seem to have been given a life.
The leaves do look a bit yellow. Passed a bag of lime around the woods, maybe that helps in any way. The drought isn't helping.
More clear about the spot in the back left - it's a bit higher, and seems poorer and drier. Some things on the left seem to be doing well anyway.
July 2022
Blackberries pruned back. Apples saved from wasps by putting down a sweet bowl. Helped many plants with pieces of wood during the drought. Hedge broken by neighbours.
August 2022
Small apples do particularly well. Figs are doing well. Apples disappear from the trees. Ton overturned. Walnuts, chestnuts and sequoia do particularly well. Path made on the left halfway. Water filled with pool water.
January 2023
Replanted about 5 trees and 5 shrubs that were wrong. Helped some plants through the winter.
February/March 2023
200 native species planted through Stichting Heg en Landschap
April 2023
The estate now knows 2 apricots, 2 cherries and 2 plum trees